I guess I didn't give it much thought, but the first night post surgery following my ectopic pregnancy is a very long one. My body is exhausted – not really interested in sleep, just in survival mode. Nurses come and go regularly to check my blood pressure, empty my drainage bag, and to give me pain medication.
Post Surgery
None of the nurses ever woke me when they came in; I was usually lying in bed with the light on staring at the ceiling.
There were three shifts of nurses. The second shift nurse was there during the most difficult part of the night: when the post surgery pain medication had worn off.
Guardian Angel
She was a petite black woman with the gentlest touch. She came in several times during the night. When I had to take my first trip to the bathroom I pressed the call button and prayed that she was still on duty.
The bathroom was a mere twelve feet away from my bed, but I had been given strict orders not to try it by myself. The door opened and from across the dimly lit room I saw her face and I knew I was in good hands.
Getting Out of Bed Challenge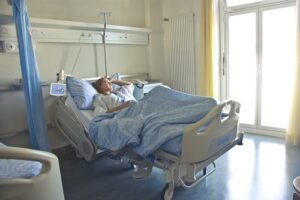 It's hard to imagine that getting out of bed can be so difficult. But indeed before I even started to attempt it the nurse gave me instructions, which turned out to be very helpful.
First slide to the edge of the bed, then slowly move your feet off the edge while pulling yourself up on the bar above the bed to a sitting position. As my feet touched the ground, as if out of nowhere, my slippers were already on my feet.
With my arm over her shoulder, the nurse led me to the bathroom and said, "We are strong women, we can do this." This lady is an angel.
Sure enough, on the way back to my bed I felt a lightheadedness come over me. Not good. I knew I was going to pass out if I didn't lie down immediately. "I'm light headed," I confessed.
She said, "OK, let's hurry."
Made It
I made it. Lying back down was the greatest feeling. Safety. Comfort. I don't know that nurse's name but I will never forget how much she helped me through that night.
If you enjoyed reading my blog, please write a comment here or bookmark it to a social bookmarking site by using the link below. Thanks!